© Garden Cottage Nursery, 2017

Growing and Selling Plants in Tournaig For 39 Years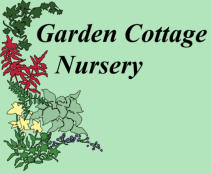 Garden Cottage Nursery
1979 - Present
About Us
Our retail plant nursery is open from March to October. We try
to offer a good selection of seasonal items such as flowering
bulbs in spring and bedding plants in May and June, along with
our year round mainstays of alpines, herbaceous and shrubs.
We specialise in plants that will thrive in the tough windy
conditions of the NW of Scotland.

Throughout the summer months Lesley heads off with a van
crammed with horticultural delights and can be found with her
plant stall at these local markets:
If you live a bit too far away from Tournaig to come round, but
near enough to Ullapool or Lochcarron why not drop us a line by
phone on 01445 781777 or by EMAIL a couple of days before
the market and Lesley can bring along with her any special
requests for you.

We grow a good number of the plants you will see on sale right
from seeds or cuttings, others from small plants called liners or
bought in as finished plants for (hopefully) immediate resale.
After he retired as gardener on Tournaig Estate Ron started
selling second hand books. He sells a broad range of titles
online and from 'Ron's Book Bothy', upstairs in Poolewe Village
Hall 2 miles south of our nursery. It is above Ron and Lesley's
daughter Alison's Button Bothy jewellery workshop and studio.
For more details see the Bookshops page.

We use one of our polytunnels in the summer to grow young
salad leaves for sale here, at the Poolewe Tuesday Market as
well as supplying the delightful Bridge Cottage Cafe in Poolewe.

Although the Nursery shuts to the public at the end of October
we keep on working. We are often asked the question "what do
you do in the winter?"
Well we tidy up the nursery put plants away for the winter,
placing those that need protection from the wet and cold under
cover. Around the festive season Lesley sells bowls of hyacinths
and hand made fresh wreaths and table decorations.
A lot of the construction, repair and maintenance work to the
nursery is done in the winter months when there are no
customers in the way so we can make a mess in peace. Then of
course being where we are there are plenty of winter storms to
clear up after or in some years winter snow and ice problems.